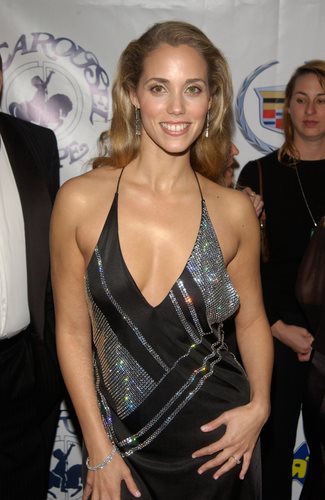 Elizabeth Berkley
Elizabeth Berkley is an actress best known for her role on the sitcom "Saved By The Bell." In 2002, she was the subject of a lawsuit filed against the actor Leonardo DiCaprio by her then boyfriend, actor and singer Roger Wilson.
The lawsuit dated to an incident which took place in 1998 at a post-premiere party for the DiCaprio film "The Man In The Iron Mask." Roger Wilson attended this party with his then-girlfriend Elizabeth Berkley. Also in attendance were DiCaprio and a group of friends. At this party, DiCaprio's publicist Karen Tenzer allegedly spoke to Elizabeth Berkley on behalf of DiCaprio and asked her to leave Wilson and join DiCaprio and his friends. Elizabeth Berkley declined, saying she was committed to her boyfriend.
According to Wilson, the following day Elizabeth Berkley received multiple voicemails from Karen Tenzer asking her to join DiCaprio and his friends for dinner that evening. Elizabeth Berkley again declined, leading to a voicemail from Karen Tenzer left on the evening of March 3, 1998. Roger Wilson then called Tenzer and asked her to stop contacting Elizabeth Berkley. However, during the course of the phone call, DiCaprio's friend Jay Ferguson allegedly yelled at Wilson over the phone that he was interfering with DiCaprio and his friends, who were entitled to do as they wanted. He furthermore allegedly told Wilson that if he wanted to settle the matter, he should meet DiCaprio and his friends at the Manhattan establishment Asia De Cuba.
According to Wilson, when he arrived at Asia De Cuba, Jay Ferguson was intoxicated and profanely informed him that he was the person who he had spoken to. The basis for Wilson's lawsuit was based on the claim that DiCaprio then said the words "We'll go kick his ass," an incitement to violence. After Wilson went outside, he was followed by DiCaprio and his friends and allegedly assaulted by DiCaprio's friend Todd Healy, who proceeded to choke him.
In his lawsuit, Roger Wilson sought damages of $45 million related to damage to his larynx and claimed that DiCaprio bore responsibility for the incident, since he had incited it with his words. As part of his lawsuit, he included photographs of the damage done to his larynx. He sought $15 million in compensatory damages related to his inability to continue acting or musical work because of the damage to his vocal cords and $30 million in punitive damages. In November of 2002, his lawsuit was allowed to proceed by New York State Supreme Court Justice Paula Omansky.
In September of 2004, Omansky dismissed the case against DiCaprio. In her ruling, Omansky said that according to the evidence presented by DiCaprio's lawyers, it could not be proven that Todd Healy had heard DiCaprio's words. Therefore, any action Healy took against Wilson was not the actor's responsibility. Her ruling allowed Wilson to proceed with a separate lawsuit against Healy if he wished.