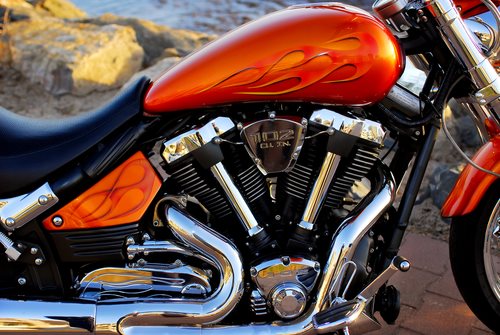 Who is Jesse James?
Born in April of 1969, Jesse Gregory James is an American television personality and CEO of the popular West Coast Choppers—a company that produces and manufacturers custom-made motorcycles. James' popularty grew in the early 2000s when he was the host of Monster Garage and Jesse James is a Dead Man—two reality television shows that aired on Spike TV. In addition to these shows, Jesse James also starred in another reality show, Monster Garage, which aired on the Discovery Channel, and focused on his profession of constructing specialized motorcycles and choppers.
Jesse James' career seemingly began when he worked as the bodyguard for numerous heavy metal rock bands such as "Slayer" and "Soundgarden." While working in the media and entertainment industry, James developed friendships with a variety of influential people. James' parlayed his knowledge and connections by opening West Coast Choppers in his mother's garage in 1992. The company grew at rapid rates and quickly moved to a larger facility to service his newfound and famous clientele. When James' business boomed he garnered the attention of the aforementioned media stations; in 2000, the Discovery Channel made a documentary which chronicled James' life. Following the success of the documentary, James' television career quickly took off. Although James was enjoying great success, his rock-star personality ultimately proved damaging to some of his loved ones.
Jesse James Scandal:
The Jesse James scandal revolves around his former marriage, with American Actress, Sandra Bullock. In March 2010, the Jesse James scandal broke when several women claimed to have had sexual encounters and affairs with James during his marriage to Bullock. In response to the allegations, Bullock canceled various promotional appearances, citing "unforeseen personal reasons." On March 18, 2010 James responded to the infidelity allegations, by publicly apologizing to Bullock—James declared that he was to blame for the scandal and asked his wife and children forgive him for what the pain and embarrassment he caused them. Following the public apology, Jesse James checked into a rehab facility to deal with various personal issues and to save his marriage.
Although the attempt to better himself seemed genuine, Bullock filed for divorce on April 28, 2010. The Jesse James scandal grew into a conflagration, as Kat Von D, a famous tattoo artist and television personality, confirmed media reports that she and James were involved in a romantic relationship. Following this statement, James announced his engagement to Von D on January 20 of 2011.
Aside from the Jesse James scandal, the television personality has had other controversies and run-ins with the law. In 2007, James was fined over $270,000 by the California Air Resources Board after officials determined that James had sold motorcycles in violation of the state's clean-air laws. According to various police reports, James was found guilty of selling customized bikes that emitted 10 times the legal limits of hydrocarbons into the Earth's atmosphere.