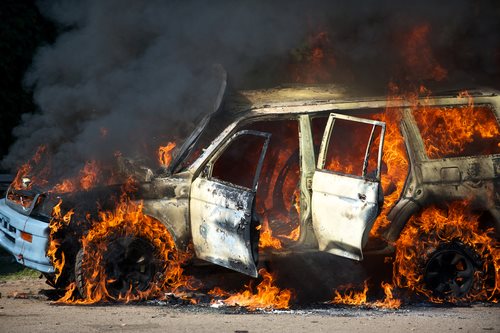 Who was Vic Morrow?
Vic Morrow, born February 14, 1929, was an American actor, who was best known for his starring role in the 1960 television series Combat! In addition to this role, Morrow also held prominent roles in numerous other cinema and television dramas.
Morrow was born in the Bronx to a middle class family; at the age of 17 he dropped out of high school and joined the United States Navy. Morrow eventually married actress Barbara Turner; the couple had two daughters, one of which is actress Jennifer Jason Leigh. Morrow's marriage to Turner lasted seven years, but ultimately ended divorce in 1964. Morrow did not remarry until a decade later, in 1975.
Morrow landed his first movie role in 1955, when he co-starred in Blackboard Jungle. Following his film debut, Morrow starred in a handful of television series, all of which garnered some form of success.
Vic Morrow Death:
In the early morning, on July 23, 1982, Morrow and two child-actresses (My-Ca Dinh Le (age 7) and Renee Shin-Yi Chen (age 6), were killed in an accident while filming on location for the Twilight Zone: The Movie in Ventura County, California—an area between Santa Clarita and Piru. Morrow was playing the role of Bill Connor, a racist man who is taken back in time to be persecuted based on various religious beliefs or racial differences, such as a Jewish Holocaust victim, an African American man who is about to be lynched by the Kl Klux Klan and a Vietnamese man who is cornered by American Soldiers. The two young girls were filming the Vietnam sequence in which their characters attempt to flee from a pursuing United States Army helicopter.
The helicopter used for the scene was hovering roughly 25 feet above the actors when various pyrotechnic explosions damaged the vehicle and caused it to crash on top of them, killing all three actors instantly. The tragedy was caused by a faulty explosion; the helicopter's blades decapitated Morrow and one of the young girls.
Aftermath of the Vic Morrow Death:
As a result of the faulty explosion and the subsequent disaster that ensued, director John Landis and several other workers on the scene, including producer Steven Spielberg and pilot Dorsey Wingo, were investigated and tried for their role in the Vic Morrow death. After a brief investigation for involuntary manslaughter and child endangerment, the defendants were ultimately acquitted and the Vic Morrow death was ruled an accidental tragedy. The parents of both Le and Chen; however, sued the production company for an undisclosed amount—the suit was settled out of court. Later on, Morrow's children also sued and settled for an undisclosed amount.